Welcome to The Bowl Mill
We produce and sell unique one-piece hardwood bowls made from beech, walnut, maple and cherry wood. Treasured for their timeless style and functionality, these handcrafted wood bowls are made by skilled craftsmen using only the highest quality wood available. Designed to compliment any kitchen and décor style, each hardwood bowl is made from a single piece of premium hardwood in Vermont, offering a range of sizes from 8 inches to 20 inches. Each bowl inherits the distinctive grain of the tree, containing a history of the weather, climate and soil conditions experienced during the growth cycle of the tree. It can take close to 100 years for a single hardwood tree to produce the grains that make our bowls remarkable. With the exceptional colors and grain finishes at The Bowl Mill, we guarantee that no two bowls are like.
WORKS OF ART FOR YOUR HOME
Since the beginning of The Bowl Mill in 1857, the heart of our craft has been producing durable and beautiful wooden bowls, manufactured right here in Vermont. We take great pride in providing our customers with the highest quality wooden bowls for home decoration and function. Each piece of wood is tested for integrity and designed to last for generations to come.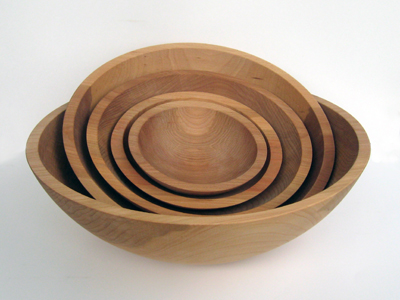 Read news about the Bowl Mill, its products,
store and what we love about Vermont CLICK HERE

OUR ROOTS
Glowing with warmth and a finely patterned grain of varying shades, our bowls are classics; transcending trends and generations to bring you an unmatched and undeniable beauty, integrity, function and quality that is beyond compare. Our attractive and practical kitchen and dining staples also make great gifts, lending a solid and substantial cut of rich hardwood from our heart to your kitchen.
CONTACT US
We love hearing from our customers! For more information, please call us at (800) 828-1005 or visit us at The Bowl Mill Store in Granville, Vermont. Thanks for shopping with us. We appreciate your business!
Tel: 800-828-1005    Fax: 802-767-3107      Email:  bowlmill@madriver.com