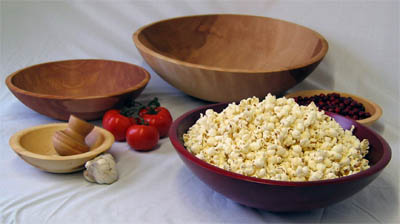 Wood Salad Bowls and Gifts Made in America
Since 1857, Granville Manufacturing Company, known as "The Bowl Mill" has been producing unique one piece hardwood bowls of beech, walnut, maple and cherry.  Treasured for their timeless style and utility, the lasting appeal of these beautiful Vermont wood bowls and accessories complement every kitchen and décor.
Works of Art for Your Table
Our American-made quality wood bowls range in size from 8in. to 20in. in diameter are made from a single piece of premium hardwood in Vermont. The nests of wood bowls are made on 19th century equipment and finished on 20th century "Rube Goldberg" type sanding equipment. Each bowl inherits the unique grain of each tree which contains a history of the weather, climate, and soil conditions experienced during its growth cycle. These bowls can be used in the kitchen, on the table, and around your home. The bowls are finished with a mineral oil, the best finish for use in your kitchen.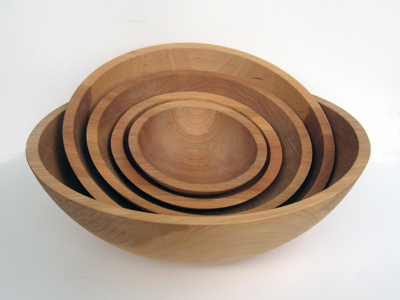 Read news about the Bowl Mill, its products,
store and what we love about Vermont CLICK HERE

Tel: 800-828-1005    Fax: 802-767-3107      Email:  bowlmill@madriver.com